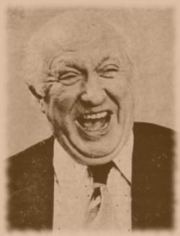 Miguel (Mieczysław) Najdorf
Miguel (Mieczysław) Najdorf was born in Warsaw on April, 15, 1910. He revealed his great chess talent as early as at the age of 10, when he achieved his maiden tournament successes. His first notable results at the Polish and international chess arena date back to the 30s. He was second (1931) and first (1934) in Warsaw Championships and then secong (1935) and third (1937) in Polish national Championships.

As one of Poland's leading players, he represented his native country at Chess Olympiads three times, gaining team medals on all three occasions (bronze in 1935 and 1937, silver in 1939) and an individual gold medal in 1939. Additionally, he won an individual gold and team silver medal at the so-called unofficial Chess Olympiad in 1936.

The outbreak of World War II caught Najdorf in Buenos Aires, at the Chess Olympiad, most successful for him. Unable to return home, he decided to stay in Argentine and continue his chess career there. He won four more team medals (silver in 1950, 1952, 1954, bronze in 1962) and three individual medals (gold in 1950 and 1952, silver in 1962) at Chess Olympiads. He won Agrentinian Championships 8 times (1949, 1951, 1952, 1955, 1960, 1964, 1967, 1975).
In the 40s and 50ts Najdorf belonged to the close group of world's best players, qualifying for the Candidates' tournament of the World Championship on two occasions.

In 1950 he was one of the 27 top players awarded the newly introduced Grandmaster title by the International Chess Federation (FIDE).

In 1947 in Buenos Aires, Najdorf performed a historical display of simultaneous chess play. He played blindfold (i.e. without looking at chess boards) against 45 players. The greatness of our compatriot is witnessed by the fact that he won 39 games out of 45, drew 4 and lost merely 2. It is worth mentioning that his superhuman effort had an additional purpose: to inform the rest of his family, which might remain in Poland, that he was still alive.

Najdorf's great chess career was crowned by his nomination for the "Rest of the World" team in the so-called "Match of the Century" against USSR in 1970.

Najdorf died in Malaga (Spain) on July, 5, 1997, aged 87, still passionately observing contest of world's top players. That reflects the way he treated chess: "Chess is my passion. When playing chess, especially blitz, I forget all the troubles of daily life. I feel like listening to music since chess resembles a symphony by Mozart to me. It inspires me with new ideas, revives my fighting spirit."